1/13/2015, 12:42am
NC House Speaker to-be Tim Moore has contentious past
Tim Moore tried to defund UNC's LGBTQ group.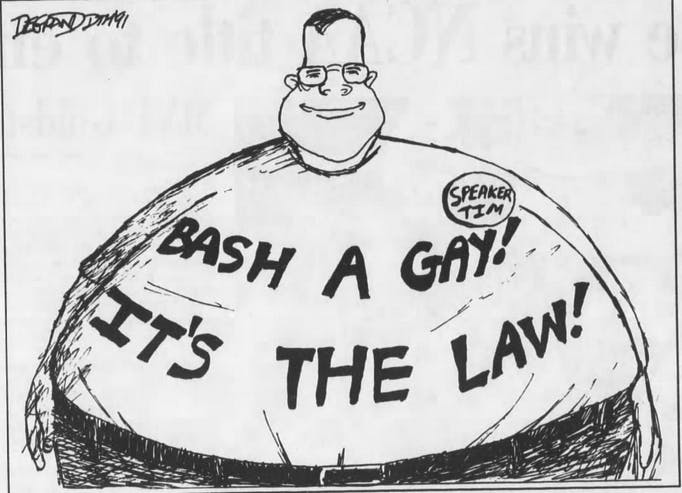 Tim Moore, the next N.C. House speaker, received a great deal of news coverage from The Daily Tar Heel during his time as speaker of Student Congress at UNC in 1991. Moore graduated in 1992. DTH file photo.
The Republican from Kings Mountain will likely replace newly elected U.S. Sen. Thom Tillis as the legislature begins its 2015 session.
Moore was first elected to the House in 2002 and served on the Board of Governors from 1997 to 2001. He graduated from UNC in 1992 after transferring from Campbell University.
Moore became speaker of Student Congress shortly after he arrived at UNC. In May 1991, Moore appointed 11 additional members to Congress for the summer session and led an effort to stop the Carolina Gay and Lesbian Association and Black Student Movement from receiving student fee funding.
"The CGLA advocates the activities of homosexuals," said Moore in a May 25, 1991 story in The (Raleigh) News and Observer. "By virtue of homosexuality being an illegal activity, the code of the Student Congress prohibits us from allocating funds to a group that promotes illegal activity."
Moore did not respond to multiple calls and emails to his legislative office.
Matthew Heyd, then student body president, launched opposition to Moore's efforts. A challenge to the legality of Moore's summer appointments stopped Congress' activities until the fall semester, but the two men were frequently at loggerheads during the year's Congress session.
"There are issues on campus that need to be addressed — tuition hikes, fee hikes and budget cuts — that need to be addressed," Heyd told The Daily Tar Heel in 1991. "All this bill's going to do is piss people off."
Heyd has since become an Episcopal rector and declined to comment for this story.
Elizabeth Stiles was co-chairwoman of the CGLA in 1988-89 and said the organization — now called the Sexuality and Gender Alliance — helped welcome gay students on campus.
"Many of our members had been harassed, thrown out of their houses and living in reduced circumstances," she said in an email. "But they worked, paid tuition, leaned on each other for support and made it through college."
Other student government members, such as Andrew Cohen, also opposed Moore's attempt to defund CGLA — citing its role in creating a more inclusive campus community.
"Mr. Moore has persuaded me that it is a felony for us to fund the CGLA," said Cohen in a May 23, 1991 story in The Daily Tar Heel. "But I'm going to suggest that we all be felons because this law sucks."
The Daily Tar Heel ran numerous editorial cartoons lampooning Moore, while letters to the editor opposing and supporting him poured in. In September of 1991, Moore suggested that he wanted students to vote on whether to fund the CGLA, though that proposal never materialized.
The CGLA eventually received funding in spring 1992, though Moore's Congress placed a rider on its budget — meaning it had to submit its publications for approval and was prevented from engaging in overt political activity. In fall 1992, Congress removed the restrictions.
In 2012, Moore supported Amendment One, which banned gay marriage. That amendment was struck down in October.
Terri Phoenix, current director of UNC's LGBTQ Center, is aware of Moore's effort to defund the CGLA but said it doesn't impact the center's mission today.
"Regardless of who is in what position at the state level, the position of the LGBTQ center is to work on making campus the most welcoming to people of all backgrounds," Phoenix said.
Stiles said UNC played a pivotal role in advancing gay rights during the 1990s.
"There was not much going on anywhere else in the state, but UNC and Chapel Hill more broadly were very supportive," she said. "Folks really connected to the human and civil rights aspect of the movement even if they had no direct experience with LGBT folks or the issues of this particular movement."
---
The Daily Tar Heel welcomes thoughtful discussion on all of our stories, but please keep comments civil and on-topic.