DTH at a Glance
DTH at a Glance: Sign of the times
Happy noon, readers! The sun is fully shining, the campus is crowded and the end of summer is approaching. I'm assuming all of these things (except the passage of the seasons) because I don't write this newsletter in real time, just like I'm assuming that y'all are more likely to read this thing in the middle of the day than in the wee hours of the morning. Let me know if I'm right or wrong at online@dailytarheel.com.
Here's the news:
QUICK HITS
UNC mourns the passing of Greg Klaiber, the beloved Media Resource Center's digital lab manager, and a teacher at heart.
A Chapel Hill church is spreading the "law of love" and opening its doors to immigrants facing deportation while they argue their cases.
Chazz Surratt has been a steady presence in Carolina Blue for this year's football lineup. But two years ago, it seemed certain that he'd be suiting up in a darker shade of blue for college.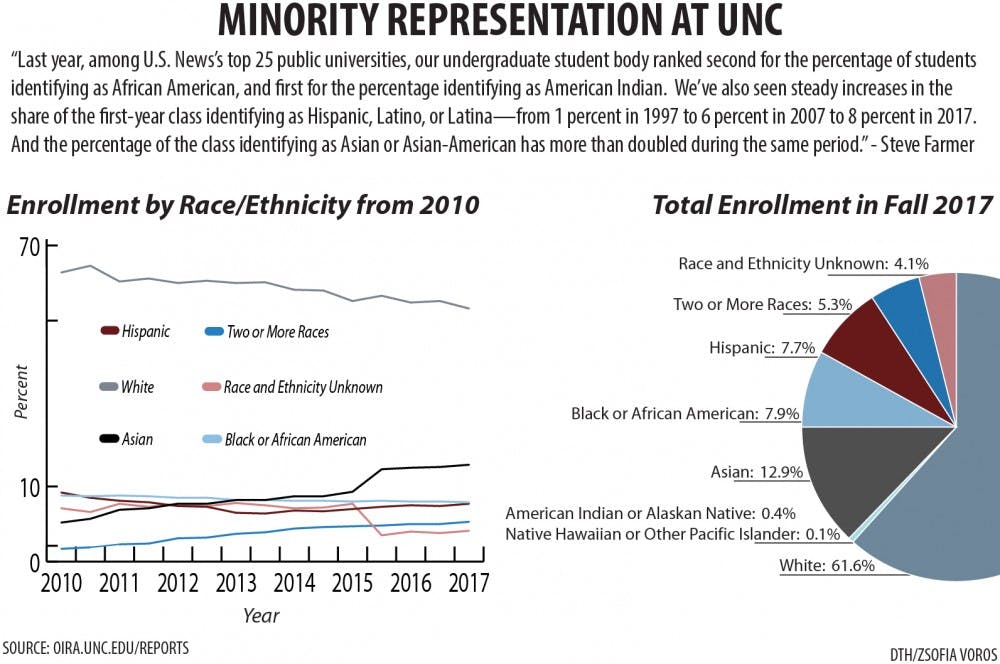 TIMES THEY ARE (SOMETIMES) CHANGING
Minority representation in the nation's top universities has declined in the last 35 years despite affirmative action efforts.
UNC scored 80 out of 100 possible points on the Athletic Equality Index, an LGBTQ athlete survey. That score is something that a gay former soccer player says marks huge progress from his time at the University.
A bipartisan group of senators, including NC Republican Thom Tillis, co-sponsored legislation endorsing medical marijuana research.
TEACHIN' TIME
Yesterday saw lectures on campus from a Nobel laureate in medicine and an associate professor concerned with diversity in tenure positions.
"It's a poem that is really sad and funny and scary. That's a real North Carolina poem." Creative writing professor Gabrielle Calvocoressi recently released her third book, a collection of poetry called "Rocket Fantastic."
---
Comments powered by

Disqus
Please note All comments are eligible for publication in The Daily Tar Heel.