If you've been to the Chapel Hill institution He's Not Here, you've probably seen Scott Nurkin's artwork covering the walls, both inside and outside the premise.
"I never envisioned myself as a muralist," Nurkin said. "In fact, I would take art classes where people would tell me I'm doing a mural and I would think, 'That sounds like such an exhausting thing to do.'"
Nurkin, a UNC graduate and owner and artist at The Mural Shop on South Boulevard Road, said he has entertained an interest in art since an early age.
"As long as I can remember I have always been interested in drawing and painting, and I was fortunate enough to have a mother who was very encouraging," he said.
Even though his brothers, who were similarly encouraged, opted out of the art world fairly quickly, Nurkin said he stuck with it and drew whatever captured his mind at the moment.
"I drew anything that interested me — G.I. Joes, Star Wars stuff," he explained. "I remember I had a Star Wars sketchbook when I was a kid. It was really technical too, like the blueprints for building the space ships."
Now, as a professional artist, Nurkin said he draws all over the place.
He began to further his art education at Rhodes College in Memphis, but said he quickly realized their art department was not what he was looking for. Nurkin transferred to UNC, studying abroad for a semester at the Lorenzo de Medici School of Art in Florence, Italy, and graduating with a BFA degree in painting and drawing.
"Immediately following graduation I had an internship with a guy named Michael Brown, who is pretty famous in Chapel Hill for his murals," Nurkin said.
Nurkin said Brown, who takes credit for the sea turtle and pencil murals around Chapel Hill, received a grant to hire three college students as interns.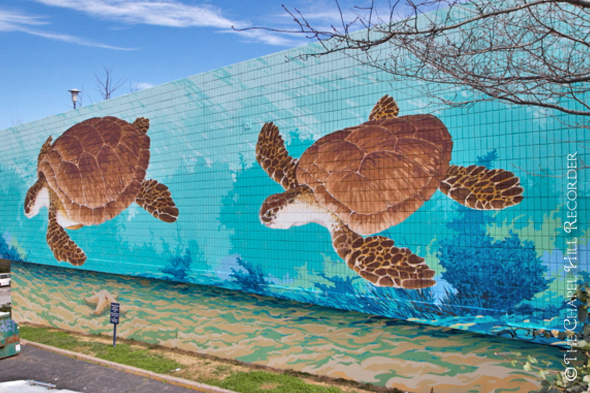 "By the end of the internship I begged him, begged him, to take me on as a full time employee, and he very reluctantly did," Nurkin said.
He said Brown realized that as a team they could make significant progress together. Nurkin said Brown taught him the tricks of the trade.
"He liked to say about me, 'I taught him everything he knows, but not everything I know,' which I think is hilarious," Nurkin said. "He's the best."
Around 2003, Nurkin said the declining economy combined with his own ambition prompted a friendly break from Brown.
"It was kind of the right time because I started doing my own thing, and after painting someone else's paintings for so many years I wanted to go off on my own," he said.
Nurkin took advantage of his independence, using it to travel virtually everywhere.
"I play music in two bands, so that afforded me time to travel," Nurkin said. "I toured a lot all over the U.S. and Europe and stuff — I didn't want to have to get a 'real job'."
"I could go out on tour, come home, paint some murals, go back out on tour," he explained. "At the time, I didn't have a family so it was very easy — I could live on bread and water, essentially."
Now, after eventually settling in Chapel Hill with a family of his own, Nurkin has cultivated a handful of clients ranging from businesses to individuals, no two of which present the exact same artistic experience.
"A lot of times it'll be somebody that has no idea — they just have a wall that they want a design on. Then we can develop an idea together," Nurkin explained. "Then, some people come up with a design and say 'this is exactly what I want'."
One aspect of the process does remain the same — the way in which a design is transferred from a piece of paper to a huge wall.
"It's a really time-honored tradition, like the same way Michelangelo did the Sistine Chapel," Nurkin said.
The technique essentially involves creating a grid on the paper and the wall. The drawing on the grid is then used as a map to determine how the drawing applies to scale the grid to the wall.
"You get really close proximity to how it looks, and then you go back and refine it," Nurkin said. "That's how you get the drawing up. The difficult part is then filling it in — there's no map for that."
One of Nurkin's first individual clients was the owner of Tyler's Taproom, who commissioned him to paint a mural on the wall behind the building. He also has created murals for a nationwide design firm, the Charlotte Knights baseball stadium and, of course, He's Not Here.
Nurkin explained that He's Not Here does not hire him —the beer reps from various breweries do, thanks to He's Not Here general manager Fleming Fuller.
"He started something for me where there were some beer murals up there and he got in touch with Sierra Nevada and Sam Adams and he put me in touch with their beer reps," Nurkin said. "At this point I can't even think of how many beer murals I've done there."
Nurkin said Fuller also put him in touch with He's Not Here's owner, who helped him put the 'Welcome to Chapel Hill' mural on the back of the bar.
"Those guys, I absolutely would put them in the top of my favorite client list," Nurkin said. "They're amazing."
He's Not Here isn't the only thing about Chapel Hill that Nurkin loves, though.
He will continue to create murals for Chapel Hill and the surrounding areas.
"I've been to every small college town in this country playing in bands, I've been to most big towns in this country, I've been everywhere," Nurkin said.
"And there is no place I would rather live."
arts@dailytarheel.com
To get the day's news and headlines in your inbox each morning, sign up for our email newsletters.