High school is already hard, but it isn't any easier when an anonymous cybervillain is out to ruin your life. Especially one who knows all your deepest, darkest secrets.
That's the premise of the hit TV series "Pretty Little Liars," which will end its seven-year run Tuesday at 8 p.m.
The show follows Spencer Hastings (Troian Bellisario), Hanna Marin (Ashley Benson), Emily Fields (Shay Mitchell) and Aria Montgomery (Lucy Hale) after Alison DiLaurentis (Sasha Pieterse) — Rosewood's resident mean girl and the leader of their clique — goes missing.
With their ringleader gone, the Liars begin to drift apart.
A year later, the estranged friends are soon reunited as they begin receiving alarming text messages, signed by "A." The messages hint at some of their darkest and most incriminating secrets — secrets only Alison knew.
Much to their horror, Alison's body is soon discovered in the backyard of her house and the nightmare begins.
The police soon begin investigating her death and the Liars are the prime suspects.
Then they receive the most frightening text to date from the anonymous menace — and right after's Alison's funeral.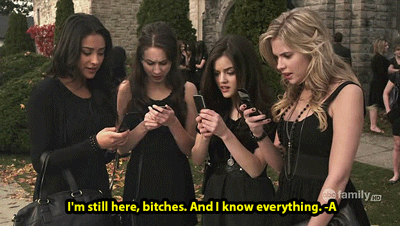 I can't say I've watched many shows on-air from the very beginning. Normally, I'll discover a show on Netflix and binge-watch it in a matter of days.
That wasn't the case with "Pretty Little Liars." I tuned in every week since the premiere in 2010.
Back then, I was an innocent boy who had just finished sixth grade. Summer had just begun, and I remember watching some show when a promotional trailer for a new series aired during a commercial break.
"Never trust a pretty girl with an ugly secret."
The narrator's words echoed through my head. It was safe to say I was immediately intrigued, as cheesy as the line sounded.
So I tuned in for the premiere.
From the very first episode, I knew I was in it for the long haul. I just didn't realize I'd still be watching the show seven years later.
I've witnessed the four Liars go through the fiery pits of hell and back. They've survived cyberbullying, blackmail and several murder attempts. They were even locked away in an underground dollhouse, not something that happens to a typical group of friends.
What was supposed to be a simple mystery of "whodunit" turned into a cornucopia of conspiracy theories as the Liars, the entire PLL fanbase and I attempted to solve the identity of the villain underneath "A's" black hoodie, which is their signature look.
The anonymous tormentor was unmasked — multiple times. Out with the old "A," in with the new "A." Whenever the identity of "A" was revealed, someone else would swoop in and carry on the "A" game. The Liars could never catch a break and neither could I because I devoted so much time to this addicting TV drama.
The show was such a big part of my life that my senior quote was a line spoken by Spencer, my favorite character in the series: "Why enjoy today when you could be worrying about tomorrow?"
On my college application to UNC, I was asked what my "Biggest Little Worry" was. My answer was "Missing a TV episode, especially Pretty Little Liars."
OK, I may have been a little obsessed with the series, but you can't blame me. After all, the show is a guilty pleasure.
With only one more "A" to unmask, it's sad to see that "Pretty Little Liars" is finally ending. It's definitely gone well past its expiration date, but I'm very thankful for the ships (#HalebForever), the drama and a never-ending supply of plot twists and cliffhangers that kept me on the edge of my seat.
Most importantly, I'm thankful I can move on with my life now that "A" is gone.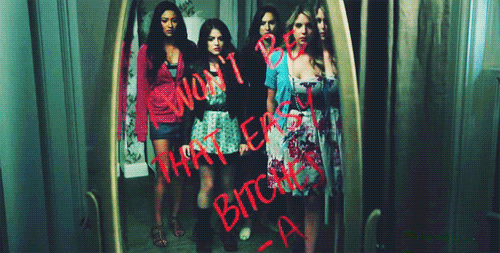 Oh, never mind.
To get the day's news and headlines in your inbox each morning, sign up for our email newsletters.